Stenter
The Stenter is one of the Fabric Finishing Machines like Relax Dryer whose heat set capabilities to give the fabric the final result of all the processes it went through. Stenter has detachable nozzle fingers that are easy to clean and sliding filters which remove lint as they come out. Stenter also comes with an A.C. inverter system that allows the operator to make changes as needed within seconds.
Stenter comes with the following advance and improved features:
🔶  Higher Production Speeds
✅ Use of elongated oval Nozzle slits for higher air velocity.
✅ The lowest gap between the top and bottom Nozzle faces prevents the drop in enthalpy.
✅ High-energy blower fans displace high volumes of air.
✅ Fabric working width can be customised from 1600mm to 3400mm and cambers from 1 to 12 depending on customer need.
✅ Speed From 40 to 100 meters per minute by A.C. Inverter System.
🔶 Efficiency
✅ Double jacketed sealed provides the best insulation.
✅ Seasoned cast iron lubricated rail provides friction-free movement of the chain.
✅ All pipelines are installed inside the machine to cut out conduction losses.
✅ Give 15% More Saving against other stenter.
🔶 Maintenance
✅ Detachable Nozzle fingers for easy cleaning & Online sliding filters for lint removal make it easy to maintain on daily bases.
✅ Online sliding filters for lint removal.
✅ Easy access inside chambers for observation.
✅ Advance chamber technology makes it easy to install and reinstall if needed without interfering with the performance.
Working width decides upon the maximum width of fabric & chambers decide upon the maximum per day production requires.
As its Fabric Finishing machine, Stenter can finish fabric like Hosiery, Cotton, Polyester, Cotton Hosiery, Polyester Hosiery, Polyester Cotton, Wool, Mink Blanket, Polar and Many more Knitted as well as woven fabrics.
In Conclusion, this machine is best for Dyeing and Printing Plants.
---
1. Select Product

Choose the required specification & submit the details.

3. Pay The Advance

Pay the advance amount as per agreed terms.
4. Product Under Construction

Product goes under Construction according agreed time.

5. Pay The Rest Amount

Pay the balance amount as your machine get ready to dispatch.

6. Shipment Initiated

Shipment option available through Manufacturer.

7. Installation

Finally, the product will be installed at your plant.
Stenter | Fabric Finishing Machine | Book 1 to 12 Chambers | Accurate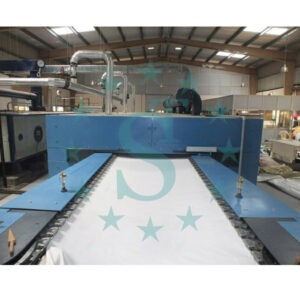 purpose of the stenter or hot air machine is to heat setting the fabric and to stretch it's width wise to recover the uniform width. It comes with customize sizes.
Product SKU: F/S-1
Product Brand: Indian
Product Currency: ₹
Product Price: 3000000
Price Valid Until: 2023-08-01
Product In-Stock: PreOrder