Hydraulic Jigger
Hydraulic Jigger is a piece of revolutionary equipment for open-width Scouring, Bleaching & Dyeing processes in batch form. One of the best Dyeing machinery with perfect dyeing results. Hydraulic Jigger has the following features:
Firstly, Hydraulic Jigger's

 Adjustable tension according to Fabric quality ensures perfect pre-treatment and dyeing irrespective of run lengths for the same shade/colour. 

In other words,

 

Hydraulic Jigger 

dyes the Clothing rapidly with accuracy.

Secondly,

 

Hydraulic Jigger

 comes with closed chambers with doors that close while the operation is performing. Which gives it desired temperature in less time. 

Therefore

, less wastage of resources.

Thirdly, 

Consistent dyeing of the same shade for any number of times in the future, Moreover the highly efficient washing system saves washing time and precious Water. The uniform tension, process time, and ideal temperature contribute to the dying quality. 

Fourthly

, Hydraulic Jigger controls these parameters resulting in fully controllable and reproducible shades. The controlled temperature and a steady circulation of dye liquid for flawless dyeing. PLC aided operation for repeatability. Suiting, shirting, and delicate fabrics such as rayon are best suited. 

Fifthly

, the 

Hydraulic Jigger

 is available in 

500kg and 1000kg

 capacity from 

1200mm to 3000mm

 working width depending on the client's need. 

Fabric

 ranging from 

70 to 700 gsm/meter square of woven material

 may be dyed in a 

Hydraulic Jigger

, making it ideal for Suiting, Shirting, and Delicate textile such as rayon.
Above all, flawless synchronisation of linear speed results in tension-free and crease-free fabric conveyance throughout the process.
🔸 

Technical Specification
➡ Automatic reversal at the end of each cycle setting
➡ Spray washing through a selector switch
➡ Stopping the machine at the pre-determined sampling point
➡ Water filling through rotary switch
➡ Drain through a selector switch
➡ Digital Speed indication
➡ Speed setting through P L C
➡ Replenishing from dosing tank through valve
➡ Indirect steam heating through Heat Exchanger
➡ Temperature Controller.
➡ A valve adjusts the tension on the cloth.
➡ Soft Start & Stop
➡ Pendulation when adding and emptying liquid
➡ Touch Screen
➡ Specially designed software for the machine
🔸 

Payment, Taxes and Delivery
Payment: 40% Advance Balance against Proforma Invoice before dispatch.
Delivery: Delivery of machine ideally comes within 4 to 6 weeks.
Tax: GST 18% Or Vat 4% +1% No CST against form "H"( export orders).
Transport Charges: Extra to your account.
Insurance- To be arranged by you.
---
1. Select Product

Choose the required specification & submit the details.

3. Pay The Advance

Pay the advance amount as per agreed terms.
4. Product Under Construction

Product goes under Construction according agreed time.

5. Pay The Rest Amount

Pay the balance amount as your machine get ready to dispatch.

6. Shipment Initiated

Shipment option available through Manufacturer.

7. Installation

Finally, the product will be installed at your plant.
Hydraulic Jigger | Fabric dyeing machine | 500 to 1000kgs. | Perfect Dyeing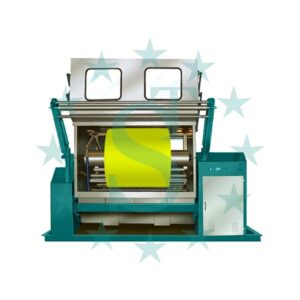 Hydraulic Jigger is a revolutionary equipment for open width scouring, bleaching & dyeing process in batch form.Adjustable tension as per-fabric quality
Product SKU: D/HJ-1
Product Brand: Indian
Product Currency: ₹
Product Price: 16,00,000
Price Valid Until: 2022-11-01
Product In-Stock: PreOrder