Polymeriser
Polymeriser is to use for fixing printed garments. Polymeriser is an Important part of Processing machinery cause it secures the colour before the washing and finishing. In this Polymeriser machine, there are the following features in it.
Firstly,

 

Polymeriser

assures perfect fixation of dyes even at higher temperatures.

In other words

, the Dyes can be permanent before starting the washing and finishing process of the cloth.

Secondly

, 

Polymeriser 

is most suitable for curing Phthalein dye, Pigments, and resin sets.

Thirdly, 

Pre-dryer removes gaseous fumes from printed fabrics – an exclusive speciality of this Machine. The Machine operates efficiently in the temperature range from room temperature to 

180ºC

 and ensures automatic regulation of temperatures within the chamber.

Fourthly, Polymeriser's

 width can be made from 

1600mm to 3200mm

 depending on the client's need.

Fifthly,

 from 70 gsm/per meter square to 700 gsm/per meter square can be processed in 

Polymeriser

.

The sixth

 and most Importantly speed can be achieved up to 

40 meters per minute 

while performing the process.
In conclusion, Polymeriser is best suitable for the garment industry or dyeing & printing plants.
🔸 ADVANTAGES :
➡ Provided with hot air jets, recirculating fans and steam or thermic oil heating.
➡ Separate blowers for top and bottom air nozzles.
➡ Polymeriser's uniformity in temperature, width wise, length and diagonally.
➡ No. dropping by condensation.
➡ Variable speed up to 40 meters per minute by A.C. Inverter System.
➡ Polymeriser is available in 60 to 150 meters of cloth content curing zone.
🔸 Payment, Taxes and Delivery
Payment: 40% Advance Balance against Proforma Invoice before dispatch.
Delivery: Delivery of machine ideally comes within 4 to 6 weeks.
Tax: GST 18% Or Vat 4% +1% No CST against form "H"( export orders).
Transport Charges: Extra to your account.
Insurance: To be arranged by you
---
1. Select Product

Choose the required specification & submit the details.

3. Pay The Advance

Pay the advance amount as per agreed terms.
4. Product Under Construction

Product goes under Construction according agreed time.

5. Pay The Rest Amount

Pay the balance amount as your machine get ready to dispatch.

6. Shipment Initiated

Shipment option available through Manufacturer.

7. Installation

Finally, the product will be installed at your plant.
Polymeriser | Fabric processing machine | 50 to 150 meters | Perfect Fixation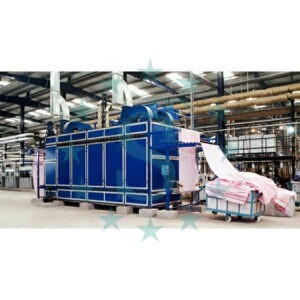 Polymeriser is for fixing printed fabric, It assures perfect fixation of dyes even at higher temperature. curing Phthalein dye, Pigments and resin setting.
Product SKU: P/P-1
Product Brand: Indian
Product Currency: ₹
Product Price: 4000000
Price Valid Until: 2022-11-01
Product In-Stock: PreOrder