Open Width Washing Range

Open width Washing Range is for the washing process. The Open width Washing Range machine has the following features.
Firstly, 

The system consists of a specially shaped impeller in the drum in which water jets uniformly smashes the full fabric width very high washing performance on the upper and backside of the fabric.

In other words, Open width Washing Range

 removes unfixed dyestuff, gum, and other chemicals from the cloth.

Secondly,

 Washing with tanks can carry out pre-washing, rinsing, and chemical treatment.

Therefore

,

 Open width Washing Range

 improves fabric quality.

An effective squeezer between the washing unit gives maximum liquor separation from one bath to another.

Thirdly,

 Each washing compartment with its force-spray system, re-circulation pump, filtering device, overflow, drain, and heating arrangement.

Fourthly

, 

the Open width Washing Range's 

working width is to be made from 

1500mm to 3500mm

 depending on the client's need.

Fifthly, 

ranging from

 70 gsm/meter square up to 700 gsm/meter square

 of woven fabric can be processed on this machine.

Sixth

 and most Important is Perfect synchronizing of linear speed hence tension-less and creaseless transport of cloth all along the process.
🔶 
ADVANTAGES :
✅ Excellent Washing efficiency.
✅ Extremely sturdy construction.
✅ Quiet running.
✅ Low energy consumption.
✅ Ease of operation.
✅ Optional knife spray between each strand of fabric with supply from a separate pump.
✅ Circulation and counter flow arrangement to save water.
✅ Low maintenance.
✅ Quick and simple installation.
✅ Tight closing glass windows on the sides to provide easy access.
✅ Direct steam heating by perforated S S Pipes.
✅ S S bottom rolls running in self-aligning bush bearing.
🔸 Payment, Taxes and Delivery
Payment: Before dispatch of machinery, 40% advance and a balance against the proforma invoice.
Delivery: Delivery of machine ideally comes within 4 to 6 weeks.
Freight: Will be paid by the customer.
Sales Tax: GST 18% (Domestic Orders) Or Vat 4% +1% No CST against form "H"( export orders).
Installation: Will be charged extra per machine over and above the price.
---
1. Select Product

Choose the required specification & submit the details.

3. Pay The Advance

Pay the advance amount as per agreed terms.
4. Product Under Construction

Product goes under Construction according agreed time.

5. Pay The Rest Amount

Pay the balance amount as your machine get ready to dispatch.

6. Shipment Initiated

Shipment option available through Manufacturer.

7. Installation

Finally, the product will be installed at your plant.
Open Width Washing Range | Fabric Washing Machine | No.1 and best for woven fabrics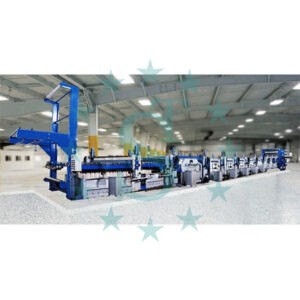 Open width Washing Range is for the fabric washing machine for woven fabrics. The Open width Washing Range machine has the following features.
Product SKU: W/OW-1
Product Brand: Indian
Product Currency: ₹
Product Price: 7100000
Price Valid Until: 2022-11-01
Product In-Stock: PreOrder